Other Listings
Past Events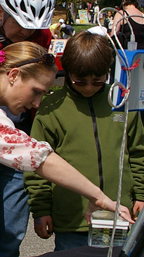 San Francisco
Sunday Streets



Art and the 350.org
October 2009 Events


Last Year's
World Environment Day
2009 Host: México
Tribal Lands Conference Photos
Photography Exhibit
AAAS HQ Washington DC
Exhibit for Kids

San Francisco
Sunday Streets
Earth Hour -- May 31, 2011. World Wildlife Fund





== Climate Science Conferences ==
For conferences more geared toword the presentation of science
research on climate change and global warming solutions.
And less toward education and public outreach.




Recent Events






NASA/JPL Climate Day 2011: October 14
NASA / Jet Propulsion Laboratory-- Climate Day 2010
Students, teachers, families, scientists, press
Held March 26 and 27, 2010
Pasadena Convention Center: Conference Center Lower Level
Map Flyer Nasa/JPL Site
NASA, COSEE, AQMD, ClimateChangeEducation.org
Hands-on science demonstrations, exhibits, talks by scientists, animations
competitions, career information, teacher and community resources,
Town Hall Meeting.








Some of 2010's Events

Climate
&
Energy


AAAS's Family Science Days
America's Finest Annual Hands-on Science Event
ClimateChangeEducation.org, NCAR, NASA
California Center for Sustainable Energy
Birch Aquarium, Hippo Works Animation
Featuring Pasco Scientific and Vernier Software & Technology
With guests from Climate Literacy Conference
Creating Climate Change Art -- with art instruction











Live Web Seminars--presented by NSTA & NOAA
Climate Change Impact Series -- Topics:
• Eastern US Regional • Western US Regional
• Corals • Monitoring from Space
• Arctic Marine Biological System • Ocean Acidification
• Sea Level Rise • Marine Mammals • Marine Fisheries
Series ran from Nov. 2009 thru Sept. 2010
Free. Registration
Yes, these were open to educators outside the United States
US National K12 Standards Correlation
Level: Middle School, High School, Informal Education


Annual Events -- beyond the above
Examples of Past Events -- More

Boy Scouts of America -- 100th Anniversary Jamboree
Hands-on Climate and Energy Science
ClimateChangeEducation.org, NASA, Chabot Space and Science Center,
Solar Schoolhouse, more. Held April 16 -18, 2010
Largest hands-on science event in Northern California in 2010.
Alameda County Fairgrounds --26,000 attended